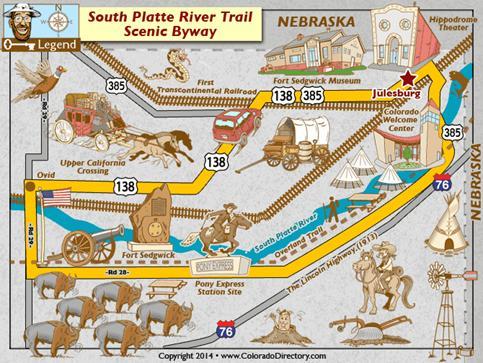 Julesburg Colorado has influenced transportation and communication throughout history. Historically, over 350,000 emigrants traveled routes parallel to the Platte River on their way to the mineral wealth of the American West. It was the interstate highway of the 1800's. Today, Interstate-76 and The South Platte River Trail are a half-mile and one hundred & fifty years apart!
1540-1803
This area was claimed in turn by Spain and France.
---
1803
United States buys Louisiana from France, northeast Colorado is included.
---
1820
Stephen B. Long explores the area calling it the "Great American Desert".
---
1830-1840
Beaver pelts are found to be useful for manufacturing men's hats. Fur trappers come into this area armed with rifles and traps in pursuit of beaver. A market for beaver pelts was readily available at the fur-trade posts along the South Platte River. Fur trappers and traders also sought trade with the Indians, often trading for bison hides.
---
1843
The Oregon Trail becomes the main route westward.
---
1844
The first Telegraph line is established and Morse Code is sent by Samuel Morse from Washington to Baltimore.
---
January, 1848
Gold is discovered in California bringing tens of thousands of new settlers westward.
---
1850s
Jules Beni establishes a trading post (Julesburg - the first of four towns with the same name) along the South Platte River.

---
October 1859
Central Overland California & Pikes Peak Express Company (C.O.C.& P.P, sometimes called "Clean Out of Cash and Poor Pay" by disgruntled employees) was formed by Russell, Majors & Waddell with Julesburg designated as a "home station." The C.O.C. & P.P. ran tri-weekly coaches to and from Denver carrying passengers, gold and other express.
---
April 1860
The Pony Express begins operations. Julesburg is the only home-station in what will become Colorado Territory [C.T.]
---
February 1861
The Colorado Territory is created.
---
May 1861
The Overland Telegraph line reaches Julesburg.
---
September 1861
Weld County is created which includes the entire northeast portion of the Colorado Territory.
---
October 24, 1861
The Transcontinental telegraph line is completed ending the Pony Express. The first high speed message was sent to President Lincoln. The message read, "I announce to you that the telegraph to California has this day been completed. May it be a bond of perpetuity between the states of the Atlantic and those of the Pacific."
---
1862
Homestead Act encouraged 600,000 families to travel westward by giving them land (usually 160 acres) almost free.
---
Mid 1864
Warfare with hostile Indians escalates in eastern Colorado. Indian raids close the Overland Trail to travel.
---
September 1864
Troops arrive at the Julesburg stage station and pitch tents. Building begins immediately and troop strength soon reaches 1,000 men.
---
October 1864
Camp Rankin (later renamed Fort Sedgwick) is established about one mile west of the Julesburg stage station. Troops are ordered to protect the Transcontinental Telegraph line, as well as travelers along the overland trail routes.
---
November 29, 1864
The Sand Creek Massacre. A 675-man force of Colorado U.S. Volunteer Cavalry lead by John Chivington attacked and destroyed a peaceful village of Cheyenne and Arapaho and in southeastern Colorado Territory, killing and mutilating an estimated 70–163 Native Americans, about two-thirds of whom were women and children.
---
January 7, 1865
In retaliation for the Sand Creek Massacre, Indians raid Julesburg and kill 15 troops and a number of civilians.
---
February 2, 1865
The warriors return and burn Julesburg. Jules Beni's first Julesburg comes to a fiery end!
---
April 14, 1865
President Abraham Lincoln is assassinated.
---
May 9, 1865
The Civil War Ends.
---
September 1865
Camp Rankin, now greatly expanded is renamed "Fort Sedgwick".
---
Spring 1866
Julesburg #2 is established just east of the military post boundary (supposedly that whiskey could be sold to the soldiers.)
---
July 7, 1866
William H. Jackson, early western photographer & artist, visits Julesburg #2 and makes notes for his later paintings of the Upper California Crossing at Fort Sedgwick.
---
August 1866
Lt. General William T. Sherman visits the post.
---
June 1867
With the arrival of the Union Pacific Railroad, north of the river, Julesburg #3 springs up as an "end-of-track" town. The town's population grows, by some estimates, to 8,000, earning the dubious title of "Wickedest City in the West".
---
May 10, 1869
The first transcontinental railroad is completed when the Union Pacific and Central Pacific railroads join their tracks at Promontory Point, Utah. Pleasure hunters rode the rails and began the slaughter of the American bison. Millions were killed and the species was nearly exterminated. "Buffalo" robes were so abundant that they could be purchased for $3.00 along the Overland Trail.
---
May 1871
Fort Sedgwick is officially abandoned by US Army.
---
June 1876
While attempting to control the Great Plains and confine all Indians to reservations, Colonel George Armstrong Custer and his men are wiped out at the Battle of Little Bighorn by Sioux forces.
---
August 1876
Colorado is admitted to the Union as the 38th state.
---
1881
Julesburg makes its final move (hopefully). At the Junction of the Transcontinental Railroad heading to Cheyenne and the newly laid track heading west into Denver there was a town named, "Denver Junction." Again, to meet the railroad, the citizens of Julesburg #3 packed up and moved to this new town. There were more "Julesburg-its" than "Denver Junction-ers" so the name Julesburg stuck for the fourth time.

---
1884
Fort Sedgwick Military Reservation is opened for settlement.

---
1884
Logan County created out of Weld County.
---
1885
The Town of Denver Junction is officially renamed and incorporated as the 4th (and hopefully the last) Julesburg town site.
---
1886
Site for the Town of Sedgwick is surveyed.
---
1887-1910
The "Italian Caves" are dug south of Julesburg by Uberto Gibello, partly for recreation and partly as a tourist attraction.
---
April 1889
Sedgwick County is carved out of Logan County.
---
1905
Work begins on Jumbo Reservoir (sometimes called Julesburg Reservoir) west of Sedgwick.
---
1906
Ovid town site is surveyed.
---
1925
The Great Western Sugar Beet Refinery construction begins in Ovid.
---
Dec 1925
The Town of Ovid is incorporated.
---
1969
Construction of I-80 S near the Town of Sedgwick revealed fossils that were recovered by archeologists.
---
1975
Hunt Brothers lose control of the Great Western Sugar Company.

---
1976
Interstate-80-S is officially renamed I-76 honoring Colorado's statehood centennial.
---
1996
The Colorado Welcome Center at Julesburg opens at US Hwy 385 and I-76.
---
2016
Sugar Beet Refinery at Ovid is demolished.
---